WHAT MAKES KCC A CHRISTIAN SCHOOL?
We are rooted in the life of Jesus Christ and the authority of the Holy Scriptures. Our very reason for existence and purpose is radically different from all other forms of education. We not only prepare students to be quality citizens in this world, but we also equip them for service in the Kingdom of God in this world.
We educate the children of Christian parents. The mission of Kansas City Christian is to assist Christian families in training their children to exemplify an integrated and unified biblical worldview; to demonstrate Christ-like attitude, character, and wisdom; and to possess academic, vocational, and life skills that enable them to transform the culture in which they live.
We hire outstanding, passionate, and faith-filled teachers who meet high professional standards. In a Christian learning community where each student is able to thrive, nothing matters more than the work of our dedicated faculty and staff. They consider educating an act of worship, which glorifies God and blesses our students.
We deliberately infuse a biblical worldview and a passion for Jesus into an excellent academic program. Our entire curriculum is shaped and nourished by faith in Christ. Our teaching staff works very hard to ensure that students
experience a biblically-infused curriculum that integrates a Kingdom-building perspective into each unit of instruction. They help expose God's fingerprints in all subjects, all throughout the day.
We educate the whole person. We believe that each child is a unique workmanship of God Himself, and recognize that the individual gifts they have represent the very image of the God who created them. While society tends to value certain gifts over others, a Christian school values them all. In our pursuit of high academic standards for our students, we cultivate each child's gifts as an image-bearer of God.
We help students develop the practices of the faith. We work together to develop the common practices of prayer and community singing, but we also take every opportunity to demonstrate the practices of Christ-like behavior. We model and encourage things like forgiveness, patience, self-control, care for the poor, and justice.
We are culturally relevant, yet counter-cultural. At age-appropriate levels, we expose our students to how the world thinks, the challenges believers face, and the most powerful tools of our culture, including media and technology. Yet, we encourage them to use those tools with discernment and in a counter-cultural way…with grace and truth to transform the culture for Kingdom purposes.
Starting in sixth grade, students are given the opportunity to participate in our weekly chapels by signing up to be a member of the Chapel Leadership Team. Each week this team is responsible for planning the upper elementary chapel. The students lead worship, introduce the speaker, give a brief overview of what we are learning, and then close out chapel with announcements. 
In high school, Chapel Leadership is an elective class that focuses on spiritual formation, leadership, and creativity expressed through worship. These practices are taught and modeled in order to empower our students to lead in our weekly chapel and influence the culture of our high school toward a "Jesus Shaped Life." We believe that God desires to use this younger generation in a tremendous way for the Kingdom of God. This class is designed to empower and encourage students to pursue the calling that Jesus has on their lives.

One of the larger projects of the high school Chapel Leadership class is creating a worship album, which is written by and recorded by the students and released as an officially published album available on CD and all digital streaming services including iTunes, Spotify, Amazon Music, and Google Play.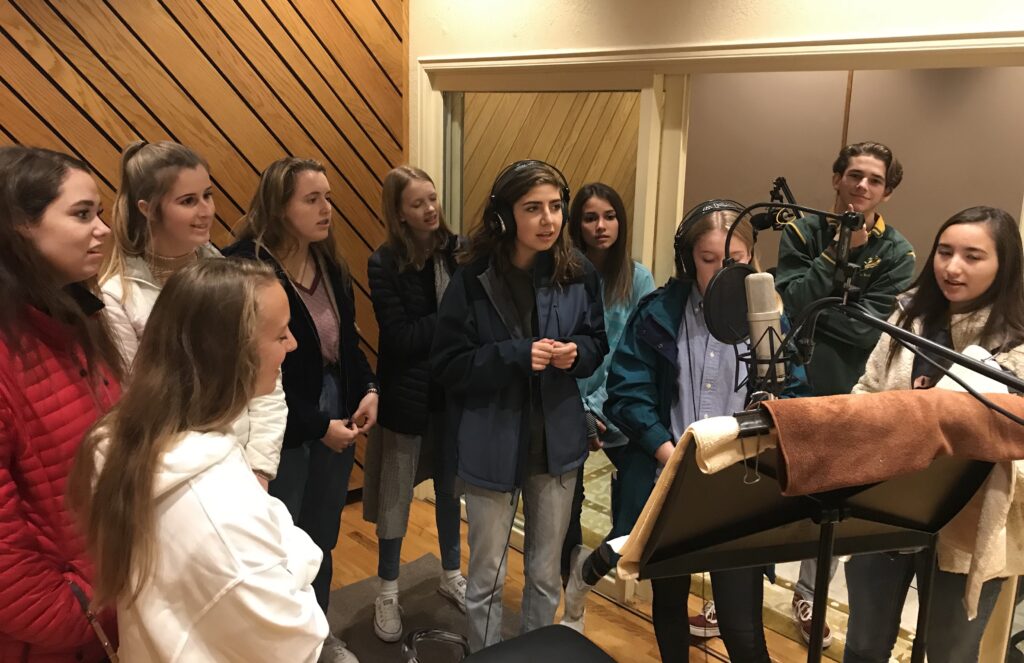 Kansas City Christian School
4801 W. 79th St.  
Prairie Village, KS  66208
Main Office: 913-648-5227
Prohibition Against Discrimination and Harassment Policy