Thank you for exploring Kansas City Christian School! By choosing KCC, you are not simply selecting a kind of curriculum for your student. You are also joining a community of like-minded families who are passionate about pursuing appropriately challenging education, together, from a deeply Christian worldview perspective.
Please feel free to contact us at any point if you have any questions or concerns during the admission process.
1. Schedule a Tour.
Come visit our Prairie Village campus and see all of the exciting growth we are experiencing! Click here to schedule a tour.
2. Schedule a shadow day. (Optional for 6th-12th grade)
Spend a day following the regular class schedule of a student in the same grade to experience what daily life is like at KCC!
3. Apply online.
A non-refundable application fee of $50 is required for each new application. Click here to apply online.
4. Gather enrollment documents. 
Birth certificate, immunization records, and the family reference form.
5. Schedule a kindergarten screening (kindergarten only) 
This tools helps us discern class placement and the social/emotional maturity of your child.
6. Schedule a family interview. 
Getting to know you is important to us! Plan to spend 30 minutes with administration.
7. Enroll online.
A non-refundable enrollment fee of $450 per family is charged annually. Click here to enroll online.
FACTS is a third party company that KCC uses to manage tuition, enrollment, fees, financial aid, and communication with families. When you decide to apply to KCC, you will be required to set up an account with FACTS. Your account will first be utilized throughout the admissions process and then throughout your time as a family at KCC. It will also be connected to your payment preferences, which will be used for paying tuition and fees as well as other incidental billing throughout the school year.
Tuition is scheduled and paid online through FACTS. Payment options are annually, semi-annually, quarterly, monthly or bi-monthly. Tuition is pro-rated at 50% for students who enroll after January 1st. You can find more Financial Information here.

*KCC offers a half-day Kindergarten program with the option to add afternoon enrichment up to 5 days per week for $19 per afternoon or $94 per week.
*half-day Kindergarten
1st Student: $5,455
2nd Student: $4,733
3rd Student: $3,707
4th Student: $3,209
Grades 1-3
1st Student: $9,228
2nd Student: $7,846
3rd Student: $6,166
4th Student: $5,261
Grades 4-5
1st Student: $10,328
2nd Student: $8,935
3rd Student: $7,003
4th Student: $5,972
Grades 6-8
1st Student: $12,154
2nd Student: $10,314
3rd Student: $8,164
4th Student: $6,977
High School
1st Student: $12,986
2nd Student: $11,053
3rd Student: $8,749
4th Student: $7,568
We offer need-based financial aid in order to make Christian education affordable to all families at KCC in K-12.  Our Preschool Program as well as Kindergarten Enrichment do not qualify for Financial Aid. Our allocation of financial aid is overseen by our school's Finance Team. Take a look at our KCC Family Financial Information here.
Application for financial aid is handled through FACTS and can be accessed through the online application process. Applying for financial aid is separate from the application/enrollment process, but can be completed simultaneously. Applications for financial aid (one per family) should be submitted when you begin the application/enrollment process. There is a one-time, non-refundable $40 application fee. Financial aid will not be awarded until the enrollment process is complete.
Click here to complete the Grant & Aid Application.
Should every new or returning Kansas City Christian family submit an application for financial assistance?
No. Only families who feel that they are not able to pay full tuition should submit an application.
Do I need to apply for assistance every year?
Yes, a new application must be submitted every year. Returning students can apply beginning in February.
Do returning students receive priority over new students when applying for financial assistance?
Yes. Re-enrolling Kansas City Christian students who submit an application by the published deadline will receive priority consideration.
If I do not qualify for the program this year, can I apply again next year?
Yes. A family that does not qualify is welcome to reapply the following year.
Do I need to apply for admission separately from applying for financial assistance?
Yes. For new students, an application for admission to the school must be submitted before an application for financial assistance. For returning students, the re-enrollment contract must be completed before the financial assistance application.
INTERNATIONAL HIGH SCHOOL STUDENTS
We value the opportunity to learn from the cultural and life experiences of those from other countries. Students who participate in our programs have the opportunity to live with a host family, participate in extra-curricular programs, while pursuing the Christian faith through Christ-centered academics. If you are interested in joining the KCC student body for a year or more, please review our requirements below.
International Student Program Requirements
9th-12th grade students considered
Same admission requirements as domestic students, plus…
TOEFL Test (85% percentile score preferred)
Must come through an approved agency (Currently approved – Adams Int'l, AHLI, but willing to consider others)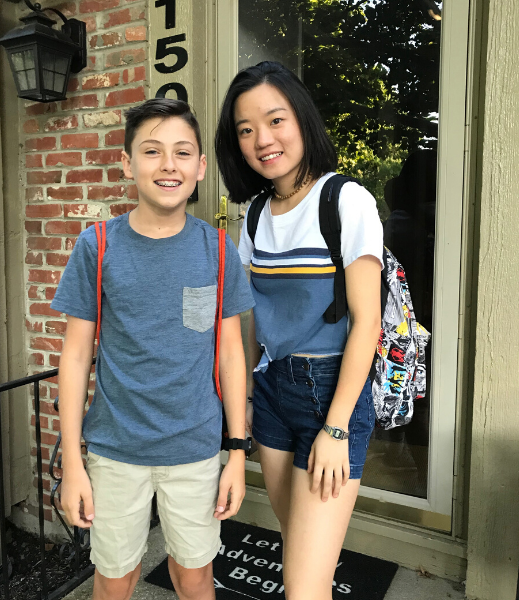 Kansas City Christian School
4801 W. 79th St.  
Prairie Village, KS  66208
Main Office: 913-648-5227
Prohibition Against Discrimination and Harassment Policy